So Christmas is just days away my holiday knitting isn't complete! I'm still working on my husband's scarf (about two-thirds done now) and my mom's shawl (can't tell when it will be done--most likely when I run out of time).
Anyway, I needed a gift for my daughter's piano teacher, so I whipped up some of this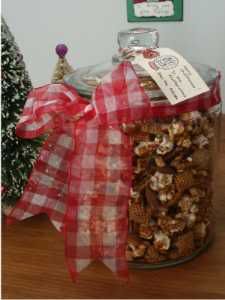 It's a yummy snack mix, easy to make but very addictive! In case you're in need of a quick gift, here's the recipe, courtesy of my friend Cindy.
Caramel Corn Snack Mix
8 cups popped popcorn
4 cups oven-toasted rice or corn cereal squares (a la Chex)
2 cups miniature pretzel twists
1 cup pecan halves
1 cup packed brown sugar
1/2 cup butter or margarine
1/4 cup light corn sytup
1 t vanilla
1/2 t baking soda
Preheat oven to 300 degrees. Combine popcorn, cereal, pretzels and pecans in large oven safe dish. Combine brown sugar, butter and corn syrup in 2 qt. saucepan. Cook and stir over medium heat until mixture comes to a boil over entire surface. Reduce heat to medium-low. Cook without stirring 5 minutes. Mixture should continue to bubble gently over surface. Remove saucepan from heat; quickly stir in vanilla and baking soda, stirring carefully. Pour over popcorn mixture in bowl, stirring until well coated. Bake 30 minutes, stirring after 15 minutes. Transfer mixture to a large piece of waxed or parchment paper. Cool completely, breaking into clusters as it cools. Makes 15 cups.
This recipe made enough to fill two jars like the one shown (purchased at my local Target!). We gave away this jar...and ate the other half of the batch. I'm sure another batch will be in the oven again soon. Enjoy!