So I'm working along on my Bonkers socks, and I have a sinking feeling in my stomach. Same pattern as my previous pair--basic 56-stitch, cuff-down sock--but something's not right. I turn the heel, start down the foot of the sock, and to my dismay, I see this.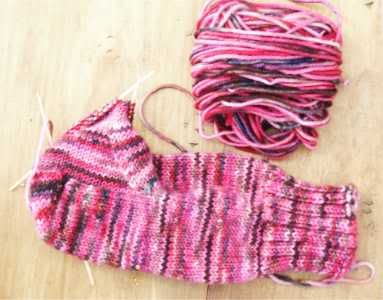 Yikes! Do you see what I see? Very little yarn left, that's what I think! Doesn't seem nearly enough for another nine inches or so of knitting. Now what?
A. Head down, keep going, deny that I'm going to run out.
B. Frog the sock, start again with a shorter cuff or toe-up.
C. Look for another yarn with which to knit the toe (would that make enough difference?)
D. Start again on larger needles, hope to use less yarn that way.
D. Other suggestions?
The obvious, of course, is to buy a third hank and just keep going in peace. I've tried to contact the studio where this yarn was hand-dyed, but haven't heard back yet. So until I get some kind of response...on to another project?