I had a great time with a new little project this week. I was feeling the need to felt something (after all, I hadn't made any felted object in over a month!) and decided a cute little purse would fill the bill. Then I found myself blog surfing, and came across the perfect answer to my felting craving.
It's the Buttonhole Bag, designed by the multi-talented Kay of
Mason-Dixon Knitting
. She so graciously shared a darling
pattern
, (or "unpattern" as she calls it) and it's a snap to make.
Here's the bag before it hit the washing machine. At this point, it measured about 13 1/2" wide and 11" tall.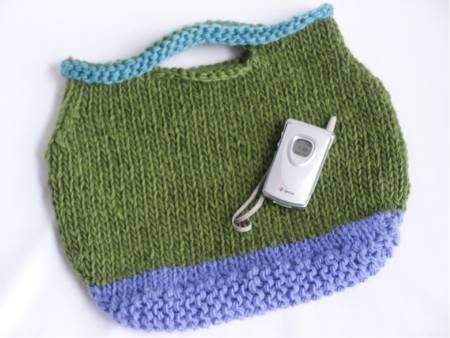 And after some time in the hot suds, here's what came out.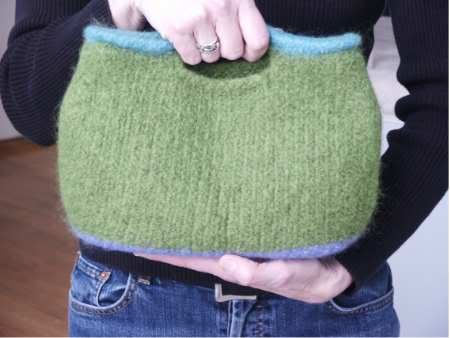 Oh, how I do love it! It's the perfect size for me, (11 1/4" x 8 1/4") and just so fun to look at. It may be hard to tell from the photos, but the bottom is knit in a medium shade of lavender, and the trim around the top is a little leftover teal I had from another project. All three colors are Lamb's Pride worsted, which I knit double-stranded. (Note: Kay's pattern calls for Lamb's Pride BULKY, also doubled!)
Anyway, I love that it knit up so fast...but now I have the urge to knit it again! Next up on the needles: brown and turquoise for my daughter. I think I feel some late-night TV knitting coming on...