This bag is just like Lay's potato chips...no one can *make* just one! I had such fun with the first bag, my daughter chimed in with her color combination request and I jumped right on it. This time I used Cascade 220 instead of Lamb's Pride, and altered the pattern just a bit.
Here's the solo shot.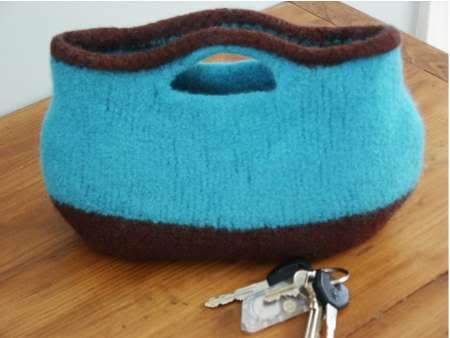 And the side-by-side for size comparison.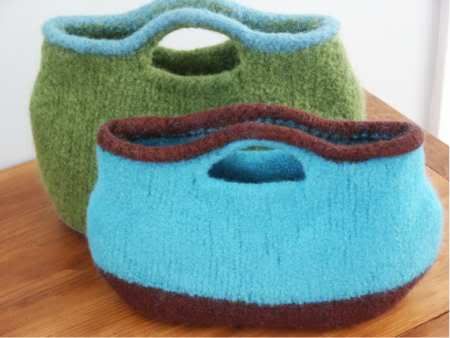 Quite a bit of size difference, considering I changed the pattern only slightly. For the green bag, I added five rows to the height (beyond what the pattern called for) and for the turquoise bag, I added just two more rows. Also, I increased three rows on the turquoise bag for the handle to give just a little more strength. Final sizes were 8 1/4" tall x 11 1/4" wide for the green bag; 6 1/4" tall and 10 /2" wide for the turquoise bag.
Beyond that, I think the yarn selection is the main reason for the difference in shrinkage. This seems to hold true based on previous felting projects...Cascade just has a higher "shrink" factor.
Anyway, for me the fun of felting is not knowing exactly how the project will turn out until it comes out of the washer! I actually really like the smaller bag and may be making another for myself. Time to think about the next color combo...