Eat and knit. Knit and eat. Ah, what a wonderful Thanksgiving! Amazing what you can accomplish when you don't have to shop, clean, cook, do laundry, and drive kids around! In other words, when you visit your parents for the holidays and you just get a chance to eat your Mom's great cooking and relax.
So, what did I accomplish, you ask? Well, more Christmas knitting (fast and furious now!) took precedence.
First, I cast on this lovely Noro Big Kureyon...
And it became the start of a gift for my sister.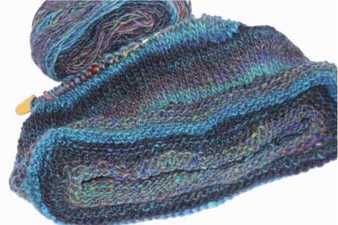 And although it doesn't look like much of anything yet...it's destined to be a Tab Top Tote from the
Felted Knits
book. It's a pattern I haven't tried before, so I'm hoping I like it. There won't be time to try another if this one fails!
The other project started with this delicious Noro Blossom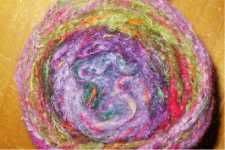 Which quickly worked up into this (almost-completed) beauty!
Wow, is this ever fun! First, I ADORE the yarn, especially this colorway. This photo doesn't do it justice...it's actually closer to the colors you see in the yarn shot. These colors are so ME, it will be hard to give this one away. I think I'll need to purchase more now and treat myself to a scarf after the holidays.
Anyway, the multi-directional diagonal scarf
pattern
makes this so enjoyable to knit. It's fun to see the triangles forming underneath your fingers, and makes you want to just keep knitting!
I know, I know...it's not exactly a new pattern and many of you have moved on to more exciting things. But if you haven't tried this, I say...grab some yarn and cast on now! You won't be sorry.