My needles have been flying, trying to get ready for Christmas gift-giving. Another gift made it off the needles (and into the wash) this week. It's the Knitty
French Market bag
for my mother-in-law.
Here's the saggy, baggy "before" shot.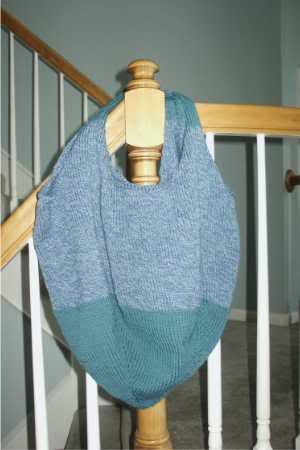 As my husband says, not too attractive!
But, after the miracle of hot water, soap, and a little agitation, here's what it becomes.
Aah, much better! I really love how this looks. The color is wonderful...I love how it starts out with four separate, distinct colors in the yarn, then felts into this lovely heathered look. For that reason, I use the Cascade Quattro over and over again. I never get tired of the result. And they have such great colors to choose from, with perfect coordinating solids.
This bag came out even better than my first FMB, which I made earlier this year. Somehow, even larger than the first...and the first was larger than the pattern indicated it would be. I know many people who made this were disappointed in the size. Since I'm a loose knitter, the bottom of the bag started out much larger than the pattern said it would. Accordingly, I added a couple of inches to the height, and some extra on each handle as well.
These photos don't capture the color changes very well, but the bag bottom is solid teal, then the handles go from multi to teal and back to multi again at the very top. A little pattern variation that I really like!
I'm hoping this bag will find a happy home and be a useful holder and carrier for my MIL's small stash of yarn and needles. When we visited this summer, she had all her materials in a small paper bag near her chair...I think this will be a nice replacement!