I just don't have much new to show you! I know, totally boring blog without new posts and pics. My time has been consumed by my work on
Cozy
, which is ALMOST done! I have only one more skein of yarn (I think that's about 7 pattern repeats) and I'm home free. Yay! I've loved knitting this shawl, my first-ever lace, but it's taken my attention away from almost every other WIP or potential new project!
However, I have made some progress on the long-suffering Regia sock. Ages ago, I did sock number one, didn't like the result, and started sock number two with several modifications in mind. I'm liking this sock much better!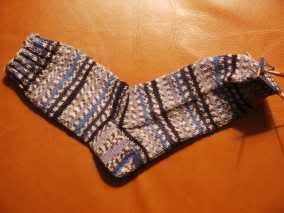 I'm just starting the toe decreases, so the end is in sight. When it's done, I'll show you the first sock next to the new version. You won't believe how different they are!
In the meantime, I'm flailing aboug looking for the next "fun" project. I just can't seem to settle on anything. I've been tempted to try a
Klaralund
, but I'm not sure that knitting a sweater is what I want to do. My favorite projects recently have been the ones that are small but teach me some new technique. I'd love to hear from some of you if you've found the perfect little item I should try!