I finally got around to casting on
Cozy
from the fall issue of Knitty this week. A bit of a rocky start...I finally got gauge (well, close) on size 6 needles, although the pattern calls for 8s. I just couldn't see going any smaller for this, since it doesn't really have to "fit."
Once I got started, I made it almost through the first pattern repeat, then somehow messed up on row 7. Too many stitches, couldn't find my mistake, so I ripped it all out and started again. Things went better the second time, although I've learned it's good to count all stitches after the purl row. From time to time I seem to drop a YO, or somehow pick up an extra.
Here's what it looked like after three pattern repeats.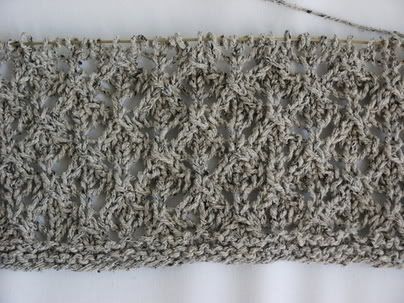 I'm now on the ninth set of repeats, and have tinked back a row or two here and there. Fortunately, I've finally learned to read the stitches and have been proud of myself for finding the mistakes. Hopefully that will continue!
I've never knit a lace pattern before, and it's really fun! I find myself saying, "Just one more row..." in anticipation of finishing another set of repeats. If this continues to hold my interest, I might actually get to wear it this fall! Stay tuned...