I've been intrigued with all the lovely embroidery I've been seeing lately in blogland, enough so that I took a little side trip in my crafting time to work on this.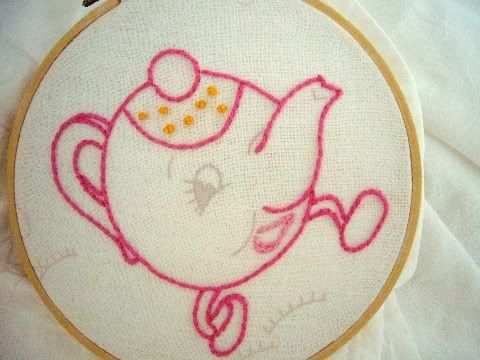 My skills are a little rusty, but not too bad...a least when I'm trying the simple stitch patterns! This teapot probably could've benefited from a few more colors, but I guess I was playing it safe in not mixing up things *too* much. This was one of many cute kitchen iron on transfers found in
this
set. They are simple heat transfer designs, which I still find to be easiest.
I actually purchased a couple of iron-on transfer pencils for some cowgirl designs I want to do, but had no success in getting a good transfer. I went over the pattern several times with the pencil before ironing, but the image never showed up. Any advice from the embroidery pros out there? What's the best way to get images onto fabric?