About a year ago I came across
this pattern
for several adorable toddler hats. At the time I thought they would be too large for my little niece, so I passed it by. Recently I remembered the pattern and decided to give it a go.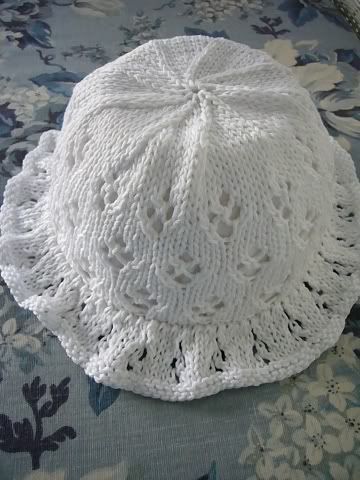 Just one skein of Tahki Cotton Classic and a couple of nights of TV watching produced this lacy sun hat. My only challenge was in the blocking; all my mixing bowls were either too large or too small! I also tried starching the hat but didn't like the result, so I rinsed it and blocked it again.
I have no idea if the finished product will fit my 20-month-old niece, but we'll be seeing them this weekend as we vacation together. My hope is that it fits and will provide a nice little bit of sun protection as we play outside. If the size is right, I have a skein of fuscia yarn that will be perfect for the tulip hat as well!