I've been absent from blogland these last two weeks, occupied by something far less fun: preparing for a garage sale! You know what that means...emptying closets, kitchen cabinets, storage boxes in the basement, the whole deal. Yikes! Who knew (well, I did) we had so much unused, unloved stuff? It consumed all my time for the past week, plus this weekend, but it was worth it. Now I feel we have a *chance* to reorganize and perhaps keep the clutter under control.
One benefit of emptying all the storage spaces was finding some lost treasures. Hmm...my high school and college diplomas showed up in a pile in the basement. Good to know where they are!? I also found a box with these little guys tucked inside.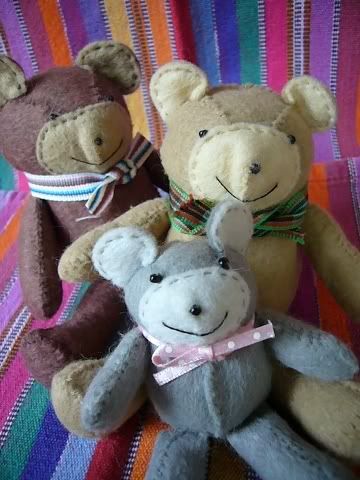 I don't remember exactly when I made these little felt bears. It was quite some time ago, and I remember once considering tossing them out. I'm glad I didn't! What's bugging me now is finding the book that contained the pattern for the bears, as well as some small clothes. I have a feeling it's here somewhere, but I haven't been able to locate it yet.
Now that this big job is over, I'm hoping to return to some relaxing knitting time. I need it!