Finally, I have some actual knitting content to share! For some reason, I just plodded through these socks. I thought I was doing myself a favor my choosing a basic stockinette sock, so I could fly right through. Didn't happen, though. Yesterday I decided it was time to be done, so I sat down in the morning determined to finish the last few inches.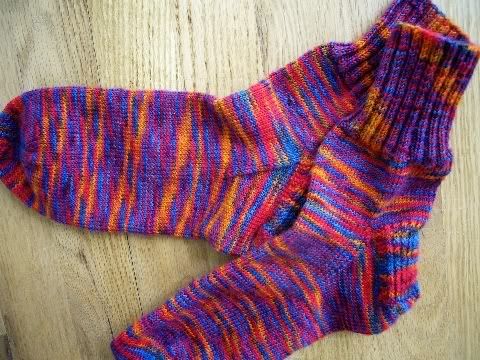 I had a moment of panic as I reached the toe and saw there wasn't enough yarn to finish. How did that happen? I started making a mental inventory of leftover sock yarns that might work for the toe. As I kept knitting, it suddenly occurred to me why I had a shortage of yarn. Somehow, when I put the hank on the swift to wind it--way back when--I made a cut where there shouldn't have been one. I never figured out exactly how that happened, but I ended up with a mini hank that was separate from the large one.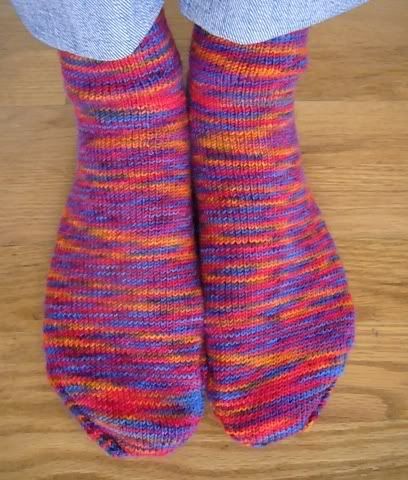 After a quick search of the nearby yarn baskets, I found the yarn in question. Whew! Plenty to finish, with some left over. I'm glad my brain kicked in when it did, or I would have been hoppin' mad about being unable to finish these.
Now I'm free to cast on another pair, and to maybe start something completely different. My niece is expecting this summer, so now I have a reason to get back to some baby knits. I've been contemplaing a baby size version of
this
. The
Zimmermania
site is also enticing me with
this
and
this
. Too much cuteness!
Sock details: Cherry Tree Hill sock yarn, Champlain Sunset colorway, 72 stitches knit on size 0 circulars