I was happy to finish these cute little
mitts
this morning, from the summer 2006 issue of Knitty.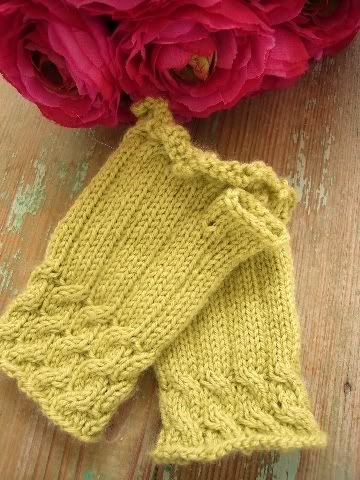 Admire for just a moment...that's about how long my joy lasted, before I noticed this.
Arggh! Can you believe my mistake? Oh, yes, it's so obvious now.
Unfortunately, I noticed the missed cable repeat in the right-hand mitt AFTER binding off the thumb this morning. When I dug out the first mitt and tried them on, then took them off to admire them together. Yeah.
Sigh.
And I know I *could* undo the cast on edge and add another cable repeat, but I'm not sure it's that important to me. Maybe in a couple of days, after I lay these aside for a bit. Obviously I was in a hurry to get on with the next project, so maybe that's best for now.
Hopefully this isn't how the rest of my week will go!