Cast on socks! That seems to be my motto these days. I have other things I want to knit, and plenty of yarn to knit with. But lately my motivation is low, so I stick with what I know. Here's the newest sock to emerge.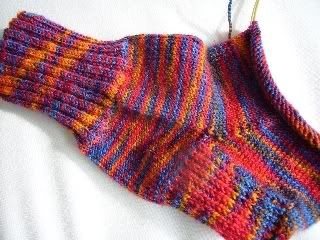 I'm using Cherry Tree Hill sock yarn in the Champlain Sunset colorway, given to me by my sister last year. I'm not sure these are really *my* colors, but I'll reserve judgment for wearability until they're done.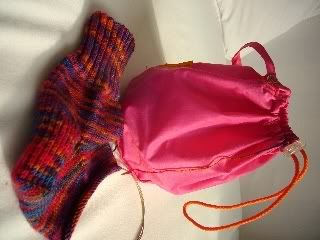 And what about the cute little bag? It's a GoKnit pouch by
knowknits
, purchased online from
Scout's shop
just before Christmas.
I had another (boring) bag I'd been using for socks, but I love this one! It's larger than I thought it would be, with plenty roomy for those giant skeins you sometimes have for sock knitting. There's also ample space for the needles and even a small accessories you might need. Very lightweight, lots of fun colors, a drawstring to keep everything inside--this one's a winner! Check 'em out. You know you want one!