One of the highlights of my day is checking out all my favorite blogs. The daily reads lead me to such wonderful finds...great ideas, projects, photos, funny stories, and more. But I also blame these great bloggers for showing such wonderful things, because I'm not always content to just look at them. I. Must. Have. Them.
Like
Jane
, showing her funky
socks
in the hard-to-find Regia Canada Colors yarn. I fell in love and immediately started googling. I finally found one e-Bay seller who had a few skeins, all of which she sold (she told me) that day! Seems I'm not the only one who loved those socks.
And when
Kay
featured these goodies by
Francie Owens
in a recent
entry
(Sept. 6), I wasted no time in ordering one for myself!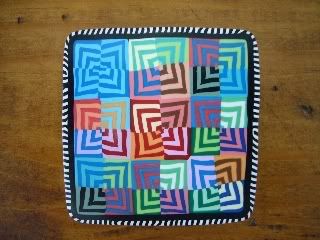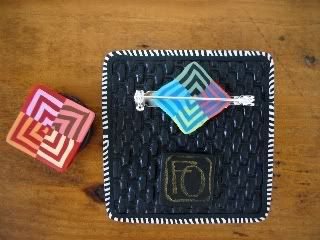 Isn't it lovely? Even the back has a cute little surprise...and I love the tiny magnet tucked into the package.
I guess I'm just a copycat--not much of a trendsetter. And even though I blame it on the bloggers, I don't plan to stop blog-hopping any time soon. So...what do you have to show me today?