While waiting for supplies for my next projects to arrive in the mail (yarn for one, needles for another) I succumbed to the call of the socks once again. This Trekking yarn--color #126--has been whispering to me from the stash basket (choose me!), so it was the winner.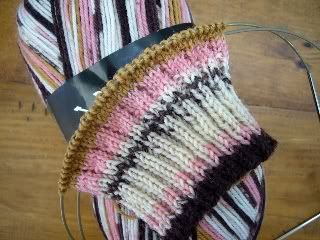 It's possible that the pink and brown combo is *last year* but I don't care. I noticed this particular colorway popping up on more than one blog in recent months, so I must not be the only one loving the colors. I'm calling these the Brach's socks since they'll end up looking a lot like
these
candies. Good thing I'm not much of a coconut lover or I'd find myself munching more than knitting!