Ooh, ahh...new yarn! It's been a while since I indulged in any stash enhancement. But this week, that's exactly what I did. Take a peek.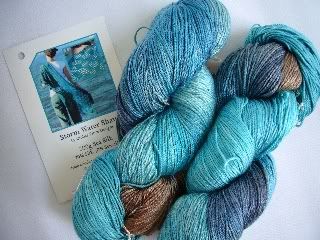 I'm so excited to get my hands on this. Yes, it's genuine Sea Silk yarn by
HandMaiden
. The colorway is glacier, and I love it! It's so soft, so beautiful...it may be a while before I convince myself to wind these lovely hanks into yarn cakes.
I've been thinking about starting a lace project for a while now, but I knew the yarn would need to be extra special in order to make it worth it for me. I purchased these two hanks from ebay seller
Tidal Brook Yarns
. Kathleen has an enormous collection of Fleece Artist Yarns. She was so helpful, letting me choose the exact skeins I wanted and rushing this right out to me.
She also included the Storm Water Shawl pattern, which I've been eyeing. I'll probably give it a try, although I've really been wanting to cast on for a triangular shawl. I'll have to give it a whirl and see what I think.
In the meantime, I'll just be sitting here, admiring my new purchase!