So here's proof that I'm working on something other than warshrags and felted bags. It's the start of something I'm sure you'll recognize.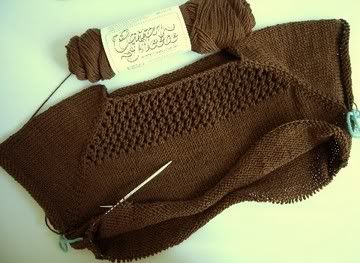 Yep, it's theGreen--er, brown--Gable
tee
that so many people seem to be knitting now. I read the many comments on the
KAL
before starting--which almost made me afraid to start! There seem to be lots of sizing issues out there. I did have to go up one needle size to get gauge, and then I plowed ahead with the pattern as written. I tried it on just after the sleeves were separated and felt the armhole was a bit too tight, so it all went back on the needles for a couple of extra rounds of increases. At the next fitting things seemed better, so now I'm into the endless miles of stockinette.
The next time you see this, I'm hoping it's finished--and it fits!