Why is it I suddenly have the urge to knit a dishcloth, er,*warshrag,* when I never wanted to before? Why do I browse through all the colors of Sugar 'n Cream at Hobby Lobby and JoAnn's, when I never gave them a second look before?
I blame it all on
Kay and Ann
, and their captivating
book
. Suddenly, the humble dishloth looks interesting. Things that are so simple begin to look not only useful, but fun! So I've joined the warshrag knitters of America in creating this.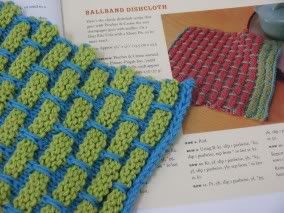 And I've even started a Sugar 'n Cream stash.
This stash is guilt-free...at $1.27 per ball, how can you lose? And this project will also be a great one for my daughter, who's ready to learn to PURL, and to create something small yet satisfying. Watch out dirty dishes, here we come!