My knitting the last couple of weeks has mostly involved cotton yarn and the new Mason-Dixon Knitting book. The warshrags are fast and fun, and the selection of Sugar 'n Cream satisfies my ongoing need for color, color, color! It doesn't get much more colorful than this.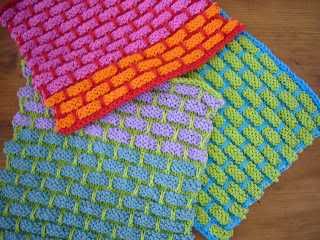 I did manage to tone things down a bit for this little bib.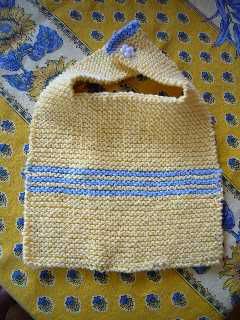 This was gifted to my little niece when she visited last week. Her mom promptly protested that she didn't want to get the bib covered in baby rice or peas--I told her she *must* use the bib and not worry about the possible consequences. Hopefully she will heed my advice!
Now that these quick little knits are finished, and the second sock that was on the needles is finally free, I need to get going on something new. The
Green Gable
pattern is patiently waiting for me, but I've been reading the entries on the
KAL
blog and I'm a little concerned about the sizing issues so many seem to be having. It's making me a little wary of casting on, but maybe I'll get the motivation this week to give it a try. If not, perhaps I'll just *shop* my own yarn basket to see what's calling out to me next!