I was so excited to finish my purple Trekking socks so I could cast on with the next ball of Trekking in my stash! I was also anxious to finally give the ubiquitous
Jaywalker
sock pattern a try.
So I cast on Friday evening and things were good for a while. However, once I finished the ribbing and about three repeats of the zig-zag pattern, I could see something wasn't quite right.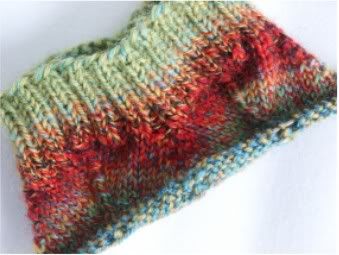 The double decrease looked odd to me, but I wasn't sure why. I consulted the pattern again and finally realized I was slipping the two stitches separately, rather than together. I was surprised it made such a difference, but it definitely does. I continued on with the pattern, changing my technique and performing the DD as called for, and things began to look better.
Now, though, I have two thoughts. One, I hate that the first three repeats have the DD done *incorrectly* even though they will be on my feet and no one will really ever see them. On top of that, though, I'm not sure this is the perfect yarn for this pattern. The colors and pattern in the yarn itself seem to dominate the great zig-zag, which I really want to see.
So, I plan a trip to the frog pond for this teeny sock start. The Trekking will be destined for a simpler pattern, and I'll save the Jaywalker for my new
Socks that Rock
yarn that's on the way!