This little gem was my Halloween night knitting. I first spied the Jester Hat on
Wendy's
blog, then again on
Elizabeth's
. The
pattern
is actually designed by Elizabeth and is available free (!) on
The Garter Belt
.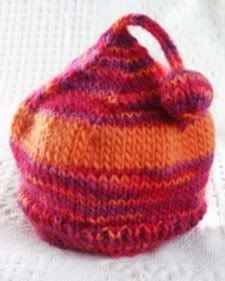 Not knowing who I might want to knit this for but wanting to cast on right away, I just dug into my stash for something fun. I came up with this bit of
Lorna's Laces
Bullfrogs & Butterflies left over from a pair of mittens I knit last winter. I had no idea if there was enough yarn in the ball, so I knit five rows about midway through in some orange Lamb's Pride that I was lucky enough to have on hand.
As it turned out, I would have had enough of the MC, but I'm happy with the little stripe. In retrospect, changing yarn at the end and making the little topper in orange would have been a cute addition. My hat is considerably smaller than the pattern specs, as I used worsted, not bulky, yarn and knit on size six and seven needles. Since there are at least a couple of babies this might fit, though, I'm O.K. with the smaller version.
I wish I had a cute baby here to model it...but it still brings a smile to my face!