For some reason, I've been obsessed lately with craft books. I've been cruising the 'net, including ebay and amazon, as well as other blogs to see what's new and interesting.
Japanese craft books in particular have started to catch my eye. Have you seen this
site
? This is a whole new world to me! Everything--from stuffed toys to stylish bags to kids clothes and household goods--is available in these wonderful books. It seems that most knitters have been involved in other forms of crafting in the past (or present) and I'm no excepion. Crafts I've tried include counted cross stitch--back when I didn't need glasses--rubber stamping, greeting cards, and handmade books. Even as a child, I remember being happiest when I had a project to work on, something to *make.*
So although I've been knitting endlessly (baby blanket and Clapotis, nothing worth showing yet) I decided to make a brief detour on the craft circuit, and I bought this from an ebay vendor.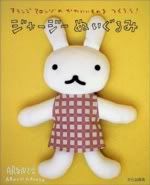 Oh, so sugary sweet and cute! All in Japanese, but very easy patterns and so basic I think even *I* can tackle these. What's funny is, I really hate to use a sewing machine. But for these, I think I can make an exception. Stay tuned to see if I actually follow through...or just keep drooling over these pages.