While we're all grateful for air conditioning, it's safe to say that it's often overdone here in the summer. Most restaurants, movie theatres and shops crank the AC to the max, which means you often need a jacket when its 90+ degrees outside!
My daughter kept mentioning her cold arms and the need for something to remedy the problem, so I decided to give one of the ubiquitous shrugs a try. After showing her the selection from the summer issue of Interweave Knits, she chose the ribbed shrug. I seemed easy enough, but I hadn't counted on the wrist factor--knitting endless 1 x 1 rib is not kind to my hands and wrists.
I had a few false starts on this one, trying to get gauge. The recommended needle size for the pattern was US 10 1/2. I didn't like the looseness of the resulting fabric, though, so I dropped down to size 8s. Unfortunately, I also decided to decrease the stitch count, since my daughter is very slender, and I made it halfway through the shrug before deciding it was too small even for her. So...rip, redo, here we go again! I went back to the original stitch count, although I decreased the number of rows for the ruffle (which I thought was just too big.)
Here's what's really weird, though. I used only half of the yarn I ordered--three skeins of Classic Elite Four Seasons, 87 yards each. The pattern called for three skeins of Paton's Katrina at 163 yards each, so I was surprised to use so much less! I'm not sure now what will happen to the remaining three skeins. I will tell you the Four Seasons yarn is nice...it's 80% cotton, 20% wool, very easy to knit with. I generally don't like the inflexibilty of cotton, and the sometimes dry feeling it has. This yarn has a little more bounce and softness to it.
At any rate, here's the final product.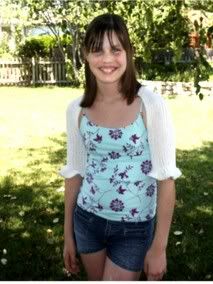 A little too warm for outside wear...but hopefully just right in those chilly indoor spaces!