I finally got around to finishing my
one-skein wonder
! I started it on vacation and completed everything except the final 2 x 2 ribbed edging. Unfortunately, in my haste to pack everything, I forgot to pack the second skein of yarn. (Yes, it's a one-skein wonder...but the Manos Cotton Stria I chose has only 112 yards per skein, not quite enough to complete the project.)
So, I've been home from vacation and should have easily finished this sooner. But a little doubt crept in regarding the size. I went down a needle size to get the look I wanted, then knit two sizes larger than I would have needed. By my calculations, this put me right where I should have been regarding gauge and size. When I finished the sleeves, however, and tried this little wonder on, I was afraid it might be just a tad too tight under the arms. It was hard to tell, but I thought I'd hedge my bets, rip out the seed stitch trim on the arms, and knit a few more increase rows.
This is where I lost interest, at least for a week or so. I finally decided a couple of nights ago to just rip back, reknit and get the show on the road. I wove in the ends last night, and here's the final result.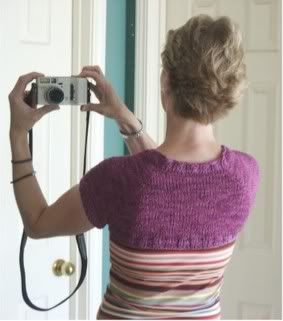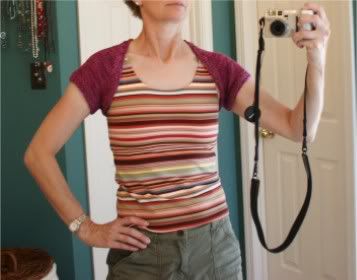 I've been wearing it today, and I'm already concerned about the stretch factor. I'm hoping that with a good washing (and possibly drying) this will get things back in shape. It may be that I should have stayed with the original size I'd planned, but I think it's still very wearable.
Were I to knit this in cotton again, I'd also consider knitting a 1 x 1 rib instead of 2 x 2, again to help with the stretch you always get with cotton. Other than that, the pattern is great and a fun, quick knit.