Well, yes, it is! Also the first day of summer, which I've always loved. Somehow my birthday being on the day of the year with the most daylight hours seems uplifting and happy to me. A great day for a celebration.
The fun started this weekend with a visit from my parents. They wanted me to open my gifts while they were here...so, after some minor arm-twisting (NOT), I obliged them. I got lots of great stuff, including a vintage turquoise tablecloth, a great chef's knife, an antique glass frog (as in the flower arranging variety) and the book I've been wanting.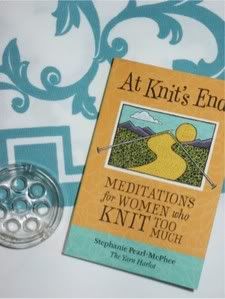 The interesting thing about this particular gift is that my dad was the one who purchased it. He'd never heard of it and really knew nothing about it--he just spied it on the shelf at Barnes & Noble and thought I'd enjoy it. Ironic, huh? The unfortunate coincidence (for my son) is that he also bought me the bookbookbook. So, he returned his copy and bought
this
for me instead. Looks to be a great read!
Now, take a look at my favorite gift from my parents.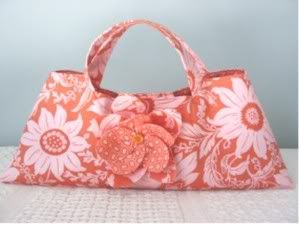 It's the fantastic purse my mom made for me, using an
Amy Butler
pattern and fabrics I chose. I *love* it. It's all I'd hoped for and totally fun. Very roomy, but the shape keeps it from being too hard to find everything. The only additional feature I'd wish for is pockets for the inside. Things would be a little more organized with pockets. However, there was some fabric left over and mom is going to try to fashion someting like the
Purseket
that will help me out.
But wait, there's more. Today when I woke up, this lawn decor greeted me.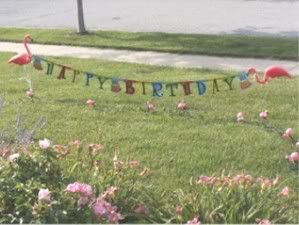 This flamingo yard art tradition started with a few friends last year, and the flock is growing. Look what I also found on my doorstep.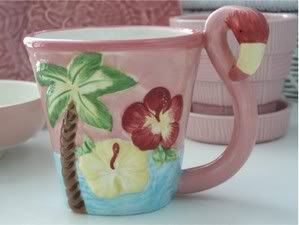 Nothing says "fun" like a pink flamingo!
And finally, in addition to some wonderful gifts from my husband (
jewelry
, a handmade pottery bowl, and cologne), my daughter presented me with this.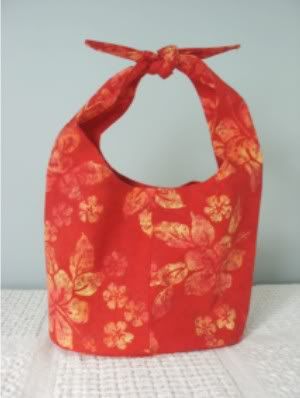 Yes, dear readers, my 12-year-old made this for me! I was very touched. She spent last week with my mom, and they cooked up this surprise. Now I have two new bags to sport. *Sigh.* Birthdays are the best!