About a year ago, I bought an adorable baby hat kit by
Debby Ware
. I didn't have any particular plans for it, but just had to have it waiting in the wings.
Last week, I finally found my purpose for this little gem. My brother and his wife are expecting their first baby this fall, and just found out that it's a girl! (I know, sonograms can be unreliable...but we're going with this for now.) Anyway, with that news, I pulled this kit out of the stash and cast on.
I had so much fun with this! One reason is that I got to try some new techniques. The first was two-strand, two-color knitting a la Fair Isle. I will admit, this gave me fits and there were several sessions of ripping back and starting over. I was unclear on where to place the yarns and also how to hold them. A quick google search led me to this awesome video
tutorial
.
The other embellishment I'd never knit before was bobbles. I was a little unsure just reading the directions, but once I had needles and yarn in my hands, it was really quite easy. Thank heaven for those Addi Turbos...they keep the yarn moving easily off the needles, a plus when knitting bobbles and using cotton yarn.
Anyway, I was obsessed with this project to the point of setting aside all else. I finally finished the little toppers last night, and here's the finished product.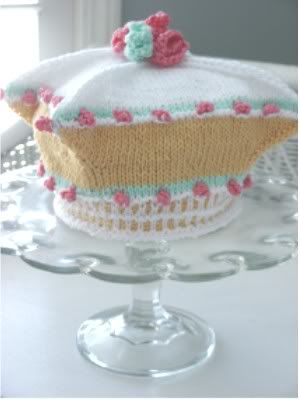 It reminds me of a yummy pastry...hence the shot on the cake plate, since I don't have a cute baby to model it yet. I'm really pleased with how this came out. Very girly, eh?
Here's a shot of the top.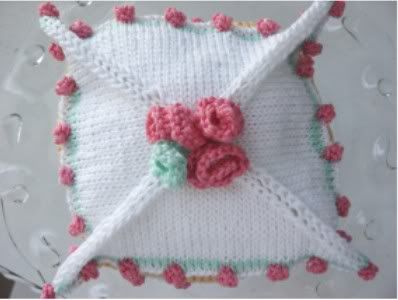 Very unique, very fun, and I hope, very wearable. Now I want to make another!