When my nephew, Luke, was born almost three years ago, I made a soft, squishy blanket for him that he completely latched onto. It was knit from
Trendsetter "Blossom"
and was the softest thing you've ever touched.
Now I was a very new knitter, and didn't really consider that the yarn wasn't designed to be washed in a washing machine. However, as babies will do, the little guy managed to spit up and slobber quite a bit on the blanket, so into the washer it went--many times! Keep in mind, also, that Luke is the youngest of seven kids, so time for handwashing anything is pretty much non-existent.
Today, the blanket is still a favorite, altlhough I looks a lot like a dirty gray dishrag, and nothing like its former self. My sister says he will *not* give up his favorite blankie, no matter what. Accept no substitutes! (She tried to sneak another in, but he wouldn't have it.)
So in honor of his upcoming birthday, I dedided to make this out of the very same yarn.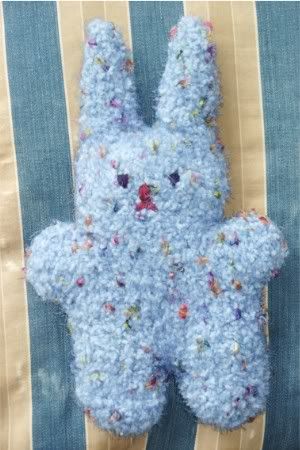 Another Kate Gilbert
bunny
! This yarn seemed to be a natural for the pattern, and I happened to have two balls left after knitting the blanket three years ago. I kept thinking there must be something great to knit with it...and I think this was it!
I gave the bunny to my sis today, to be passed along to Luke in a couple of weeks on his birthday. She loved it, and is hopeful that it might become a replacement--at least on certain occasions--for the gray dishrag blanket he now favors. It'll be interesting to see how that goes!