Since I've become such a felting addict, I decided to try felting something new--a hat! I'd been pondering what to give my sister-in-law for Christmas, and this looked like something she'd wear. Since I taught her to knit last Christmas, she's been a knitting fiend, but mostly scarves and a couple of shawls, and maybe a small felted purse or two. My brother told me she hasn't tried hats yet, so hopefully that will be the case, at least until after the holidays!
Anyway, I got my hands on this easy
Fiber Trends
pattern, and went shopping for the perfect yarn. I found some
Mountain Colors
hand-painted yarn at the first LYS, and fell in love with the yarn (55% mohair, 45% wool) and its subtle color variations. It seemed just a little too flimsy, though, to felt alone. So, off to the next LYS. I picked up some Heilo, which I know felts very well, but after I started knitting the two together, just decided the Heilo I chose was too light in color, and the hat might end up with some weird spots of color throughout that I wouldn't like.
Finally, the third LYS...and the perfect matching color of Cascade 220. Almost the exact same blue as the Mountain Colors, but perfect for adding the bulk I wanted for this hat.
Now, on to the knitting...which I swear took less time than all the running around for the yarn! The pattern was easy to follow, knit up in a snap, and here's what it looked like before felting.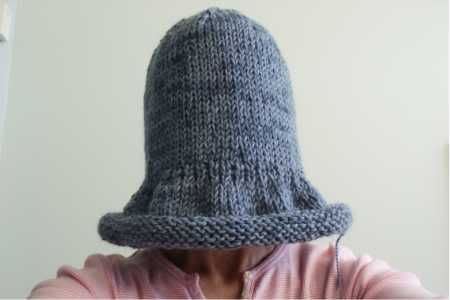 I asked my brother to provide hat or head measurements for my SIL before I took the hat to the washing machine. Lucky for me, her head measurement is the same as mine! So, off to the hot soapy water, then ready to block. I went all over the house, looking for the perfect mixing bowl or other object for blocking the hat. No luck! In fact, in my attempt to find the right shape, I pulled the hat too far out, and had to toss it back in the wash for more shrinking.
Finally, I had a lightbulb moment...went to the garage...and found the perfect blocking tool!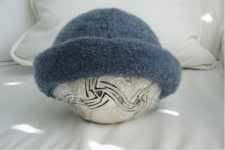 Yup, straight from the sports closet...one of our many soccer balls. For inquiring minds, it' a size 3 ball, measures just about one inch in diameter larger than my head! And such a nice round shape for the hat. So after wrapping the less-than-clean ball in some Saran wrap, the hat went on to dry for the day.
And now, the FO--modeled by my daughter!