Another day, another baggy bunch of knitting on my lap! Of course, another felting project in the works. This one's my second
French Market bag
from Knitty. I made the first one months and months ago, sort of my entry into the world of felting. Earlier this summer I decided it would be a nice bag for my mother-in-law (Christmas is coming!) and purchased this Cascade 220 yarn.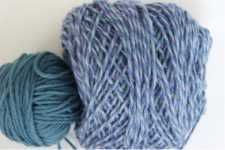 The multi-colored yarn is one of the Quattro colors...four strands, each a different color, one of them the same as the solid teal I chose for the bottom of the bag.
The only problem with this bag is that it's already larger than my first one...which in itself was quite a bit larger than the pattern specified! According to the pattern, once the bag bottom is complete, the circumference should be about 44 inches. On my first bag, the bottom was actually a little more than 50 inches in circumference...and this one's even bigger! YIKES!
The only bad thing about this is the time it will take to make the bag tall enough to balance out the wider proportion. And, of course, hoping there's enough yarn to accomplish that. I'm not certain this will even have the same shape as the pattern, but I'm this far into it now and I'm not goin' back.
Here's a look at the baggy bag right now.
Can you say knit, knit, knit, knit...