So here's the continuation of the Regia sock saga (thrilling, I know!). I finally finished sock number two, which I modified based on the things I didn't like about sock number one. First, the comparison shot.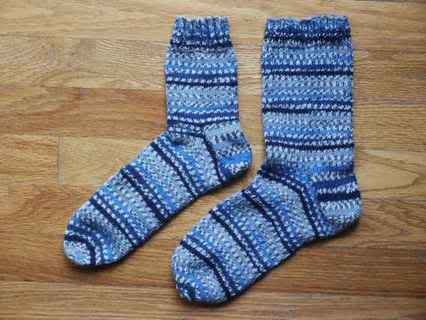 Now, can you believe the same person, knitting with the same yarn, knit BOTH of these socks? I just blindly followed the pattern for sock number one (the gigantic one on the right) and this is the result. Using size 1 1/2 needles, I ended up with a quite baggy boot sock. Talk about loosey-goosey knitting!
SOooo...I decided to knit sock number two on size 0 needles...yup, size 0! My dad asked if I was knitting with toothpicks. And there were several times when I had to K2tog that I was certain my needle would break!
Anyway, I also modified the design, using a 2x2 rib instead of 1x1, making the cuff shorter, and changing the toe finish as well. I like the second sock much better, and it actually fits! Yay!
Now, poor sock number one will have to be frogged, and reknit, so I can actually wear the pair. We'll see if I can get interested enough in this project to make that happen.