One person's trash is another person's treasure...which is why I love to haunt antique shops and flea markets. Over spring break we went to visit grandparents, and came home with some great finds from local shops.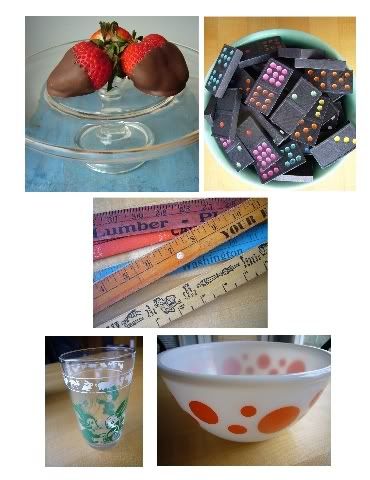 Many trips to the antique shops leave me empty-handed, but not this time. The cake plate (sans strawberries) will join the others in my small collection. The stash of brightly-colored dominoes cost just $3 and were great fun for my niece to dump on the floor and play with this weekend. The colors and graphics on the old yardsticks caught my eye, so I now have the start of a new collection, residing in an antique ice cream bucket. The little
Swanky Swig
juice glass was purchased to replace one that was broken recently, and the polka-dot bowl doesn't match anything, but was too cute to pass by.
All this shopping success has me hungry to hit the antique trail again soon! What are your favorite things to collect?