My Christmas knitting is at an all-time low. I'm feeling a bit guilty for not giving more handmade gifts. I'm not sure why, but this little hat and mittens in Mission Falls superwash wool are pretty much it.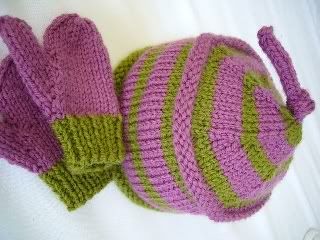 The hat is a scaled-down version of the wizard hat from
Kids Knitting
by Melanie Falick. Trouble is, even though I consulted
The Knitter's Handy Book of Patterns
to determine how many stitches to cast on, I can already tell this hat will be much too large for my one-year-old niece. Sigh. I guess it will keep until next year.
The mittens were a fun, quick project. They're knit flat, then seamed down the outside edge. It's a free pattern from
Knitting at Knoon
Designs. A great pattern, easy to follow and offers three sizes.
So that's it for the gift knits. Now I really need to get back to the shawl I started some time ago, and also cast on for another pair of socks. Maybe when the new year arrives I'll be inspired again to tackle more projects.