Knitting baby things is dominating my project list these days. I guess the fact that baby items are cute, tiny (quick to knit with small amounts of yarn) and get such wonderful responses (awww!) keeps me knitting for the little ones.
Anyway, the latest on my list are some adorable little shoes. Inspired by the darling pink pair recently knit by
goodkarma
, I decided to give them a try. Believe it or not, they start out looking like this.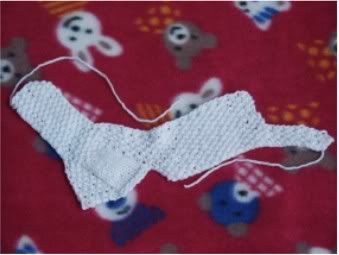 After much weaving in of ends and sewing together, they look like this.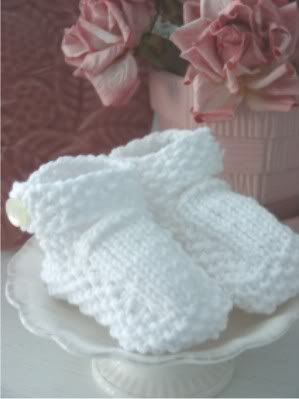 Whew! The assembly took nearly as long as the knitting. I felt like I was folding up some origami project as I tried to figure out how the whole deal was supposed to become this little bootie.
The pattern for these is from the book
Knitting for Two
by Erika Knight. It's another great library find for me, and it's full of many great patterns. I used GGH "Bali" yarn (50% cotton, 50% poly) and hardly made a dent in the ball. I may have to give the lacy bonnet a try before all's said and done.