I'm just about to see the light at the end of the tunnel on this project for my sister. It's the Tab Top Tote from Felted Knits, and almost ready for the felting process. I just have a little more finishing to do and to the washer we'll go.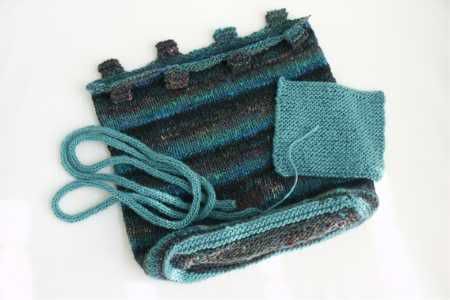 As you can see, the bag is done, including the second base which I debated about adding but decided to do. The pattern calls for knitting the base a second time, then using a three-needle bindoff to attach it to the original one. Only trouble is, I ran out of the MC yarn (Noro Big Kureyon) and had to add in a bit of the contrasting color (Lamb's Pride) on the base. Not what I really wanted to do, but since it's only a small stripe, I'm hoping it might just look like part of the striping pattern.
Also, I decided the bag needed a couple of interior pockets, which weren't called for but I think are very necessary! These were also knit from the Lamb's Pride, which I think adds a nice pop of color for the interior of the bag. The first one has already been hand sewn inside, the second one is still waiting for the needle and yarn.
The i-cord is also ready to go, but I need to round up some cotton yarn or rope to put through the tabs before the bag goes into the wash. The pattern was very unclear on this (felt the cord first, then thread it through the tabs...or thread through, then felt?) but my knitting cohort
Jennifer
had experience with this pattern and advised me to felt separately, but keep the tabs open with some non-felting material.
Stay tuned for some post-felting pics!