The toddler poncho is finally off the needles! Unfortunately, I don't have a darling toddler to model it, so I have to give you this very static (almost alien-looking) shot of the finished garment.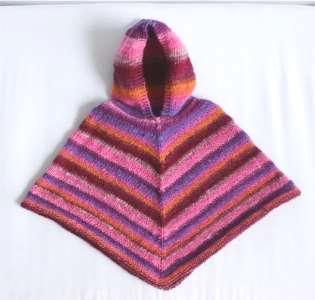 I actually knit most of this on vacation, then set it aside when I became distracted by the self-striping socks. This week, I finally pulled it back out of the bag, added the hood, and called it done. My kitchener stitch finish on the hood isn't as perfect as I'd like (that darn yarn kept catching on itself) but I think it won't be noticed. Also, the colors on this are very different than what I expected. This photo doesn't show the true colors very well, but there's a lot of dark red and purple, and I'd hoped for a little more variations on pink.
I'd been debating about adding fringe (which the
pattern
picture showed) but when I ended up with only a TINY bit of yarn at the end, that made the decision for me! Four skeins of Noro is enough to invest in this, I believe.
The only other consideration would be to possibly add a pom-pom at the point of the hood, or perhaps a small tassel on each point of the poncho. I may have enough for that. What do you think?